National Poop Month Against Sell-Out NGO's: June 2014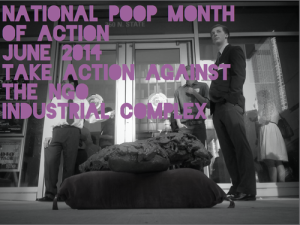 Moratorium on Deportations Campaign launch a month of actions to expose the ways that reformist NGO's who have hijacked the migrant rights movement instal themselves as its leaders — all the while invested in expanding the conditions of deportability and illegalization of migrants, and the assault on indigenous nations under the guise of "border security". This is also an attempt to expand out awareness of the ways the NGO complex functions to restrict, police and co-opt social movements more broadly.
Invitation to National Poop Month – for more please see  http://chicagomdc.tumblr.com/ABOUT
Ever been bullied by a "peace marshal"? Ever been silenced because you are not a good "poster child" for the movement?  Ever witnessed police-NGO cooperation, or the ways corporate foundations and electoral campaigns drive the "social justice" agenda?  Take action  — large or small — against the NGO Industrial complex! June is National Poop Month Against Sellout NGO's, a call to communities everywhere to expose the ways powerful NGO's have installed themselves as "leaders" of social movements, while co-opting and selling us out!
Recently, several NGO's cooperated with police resulting in the arrest of two activists — including one person who was known to be under deportation proceedings. This was not an isolated incident — reports have been arriving from all over the country of direct police cooperation, as well as the silencing and exclusion of dissenting voices, co-optation and tokenism. These organizations are not in the business of challenging the status quo. They are not invested in systemic and radical social change. Instead, they work to prevent communities from self-organizing beyond the logic of corporate patronage and electoral politics. They coopt and police emancipatory movements, undermining the collective potential for political expression, kettling our bodies and the social imagination.
Chicago: June 5 – Bullshit Organization of the Year Awards
In Chicago, we will kick off National Poop Month with the Bullshit Organization of the Year Awards on June 5th! We will march with a giant poop sculpture and plungers between the headquarters of two NGO's (ICIRR and SEIU) and two prisons (MCC and ICE headquarters).
Take action in your community! Conduct your own Bullshit Awards! Write an open letter, organize a public meeting or event. Develop a resolution to stop working with orgs that cooperate with police. Reach out to rank and file members or small organizations who may disagree with the leadership of large coalition NGO's; promote critique and resistance from the inside! Connect with others to support non-hierarchical, autonomous organizing beyond the NGO complex.
In solidarity,
Moratorium on Deportations Campaign
For updates:
Twitter: @DismantleBorder
www.moratoriumondeportations.com
Contact us:
moratoriumondeportations@gmail.com
chicagomdc@gmail.com
Subscribe to Blog via Email